Britt: Firstly I wanted to say that Greedy Guns was my choice for co-op game of the year for Games Freezer, genuinely some of the most fun I've had in a two-player mode in the last year.
Miguel: Thank you so much! It means the world to us to know that people appreciate our game. Thank you x1000.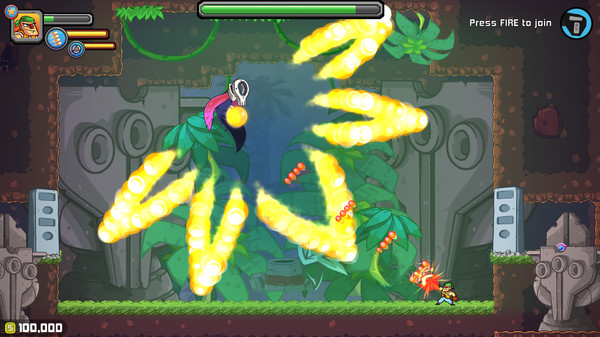 Britt:
Can you give a little background on Tio Atum for those not familiar with your work, when did the company form and what drove you to start creating video games?
Miguel: Tio Atum started in 2012. We were already working in the industry, and at some point wanted to go out on our own and make our own games. We started by doing mobile games and released 5 in one year. The biggest hit was Super Bit Dash with over 2 million downloads. Then came Greedy Guns :)
Britt: I'm not overly familiar with the Portuguese game development scene, are there quite a few companies that develop video games in Portugal or are you a rare breed?
Miguel: We are few but every day I hear of a new studio popping up. At least 3 stand out from the top of my head. Nerd Monkeys, Amplify Studios and Upfall Studios.
Britt: How is the current gaming scene in Portugal? Are there a lot of independent / retro gaming stores or are chain stores the only place to purchase games from?
Miguel: There's a couple of independent gaming stores and bars that I know of. Gaming culture is huge in Portugal. A lot of events for consumers, packed with gamers from 5 to 65.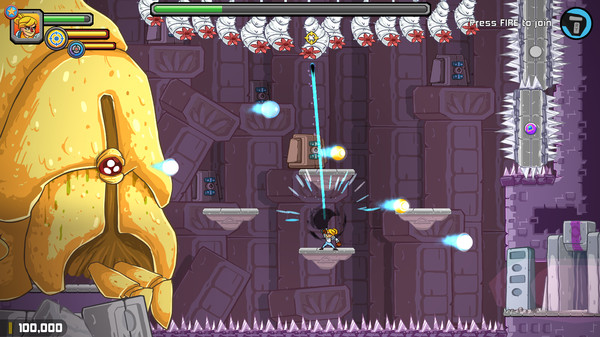 Britt: Your last game (Greedy Guns) was my personal choice for co-op game of the year, I had nothing but love for that game. Will your focus remain in the 2D-Shooter genre or is your next title shaping up to be something a bit different?
Miguel: THANK YOU! We have no idea what our next game is going, to look like to be honest. We never did two similar games in a row, but maybe that will change? When we know, Games Freezer will be the first to know!
Britt: Are there any games or companies that you draw influence from, specifically, or do you look at different aspects of the industry depending on what you are working on at the time?
Miguel: There are some studios that we absolutely love. Klei is a studio that we really look at for inspiration. Their stuff just looks and plays awesome, every time!
Britt: Greedy Guns was four years in the making and this shows in the polished final product. As an independent studio, does it feel like a luxury to be able to take your time and make sure that your games are exactly how you envisaged them or were there pressures to get the game released?
Miguel: There's always pressure. Social pressure for starters! Friends, family and lovers going "when is it out?!". The economics of it also press us to work faster. The longer the game is in development the bigger the risk. It's a huge luxury to be able to spend 4 years learning and polishing our work. Things weren't always easy, but it was worth it!!!
Britt: What games are you playing at the moment and also what would you say are the games that are most important to you?
Miguel: I can only speak for myself (Miguel Rafael), but I just finished DMC and loved it! Can't wait for the next one.
There's a lot of games that shaped who we are as creators and gamers. Our picks are Ultima IV (Afonso), Another World (Miguel R.), Super Mario World (Miguel C.).
Britt: We love food and drink as much as games here at Games Freezer, can you suggest a favourite meal or drink for our readers to try out that you think captures the Tioatum spirit?
Miguel: I would have to say sushi. Loved by 2/3 of the team
:P Miguel Cintra loves it so much he studied and became an amazing Sushi Man on the side.
Miguel: Thanks for your time and talent!
Thank you for helping gamers find games they love and thank you for all the love! CHEERS!
Interview By Britt