Let's join the Pang Man in a reflective mood as he discusses the legendary London Trocadero Video Games Arcade and it's eventual demise along with a selection of arcades in London that could potentially fill the arcade gap.
"In the 90s I used to spend many an hour at the arcades in the London Trocadero in Piccadilly Circus.
Back then it was spread out across a number of floors and was a great place to spend an afternoon or weekend.
In those days the difference in quality between arcade graphics and those of home consoles was like night and day. When you played a driving game like Daytona against your mates it felt like a million mile away from the likes of Out Run or Road Rash on the Sega Megadrive. It was a genuine thrill to avoid crashing into the walls after navigating a corner at high speed.
There were often large crowds surrounding the latest beat-em-up, such as X-Men VS Streetfighter, Killer Instinct, Virtua Fighter or the latest Tekken installment. Watching skillful players successfully launch high-level combos against one another was truly enthralling.
Older classics like Mike Tyson's Punch out and Final Fight still managed to pull at my purse strings, though!
(To be honest I never was very good at one on one arcade fighting games, doing 90 degree and 180 degree movements always felt easier to me on a control pad. However I still had a go, but let's just say my £1 credit never lasted too long)
At the arcade, I gravitated towards first-person on-rails light gun shooters. It was great playing action-packed titles such as Time Crisis, Virtua Cop and the House of the Dead. These games were decent value for money as 1 credit could last a good 20+ minutes, as opposed to the3 minute, 1 track experience of say the Mario Kart arcade.
(When the PS2 came out I think I bought every light gun game under the sun, Time Crisis 1,2 and 3, Virtua Cop 1 and 2, Crisis Zone, Ninja Assault etc)
Novelty machines had limited appeal to me, but were still worth a one off go. These included things like punching bag machines and Electric chair experiences.
Fan favourites included the obligatory "how many basketballs can you get in a hoop?" machines and Air Hockey machines.
There was a section of floor space dedicated to cabinets where you could win tickets in exchange for prizes. Some were like the wheel of fortune or Deal or No Deal, whilst and others involved a bit of skill like dropping a ball into a particular section. When you won, a long stream of tickets would come out of the machine. But these machines were really a bit of a con because even if you spent £50 and had a humongous pile of tickets, you still could only trade them in for something rubbish like a pencil.
In 1996 Sega-world opened on the upper levels of the Trocadero. It had a futuristic looking escalator to take you up to the entrance, where participants could enjoy 4 floors of games and rides. Segaworld shut down a short time later after allegedly making huge losses.
The demise of Segaworld never really affected me as it was not in existence long enough for me to be emotionally invested.
What is disappointing though is what happened to the rest of the arcades in the Trocadero, a few years later. Suddenly (or at least it felt sudden to me) massive sections of the floors were closed off until it was essentially an empty shell. Apparently, a rental dispute had led to the owners turning off the electricity and unfortunately this was never resolved.
Nowadays the ground floor of the Trocadero is characterized by a bunch of generic souvenir shops, whilst I believe the intention is to turn the rest of the building into a hotel. From a gamers perspective, it is all a rather sad turn of events.
Now given the demise of the arcade scene in the Trocadero, there appear to be only two real London alternatives.
The first is Namco Funscape near Waterloo.
https://namcofunscape.com/location/london-county-hall
Namco Funscape is a decent arcade and well worth a visit or two, but it sadly doesn't seem to get in the newest machines very often. Every time I visit, I feel like nothing has changed since my last visit a year before. Now I enjoy nostalgia as much as the next person but ideally, you want a blend of old classics with exciting new releases.
The second alternative is an arcade called the Heart of Gaming. Originally based in North Acton, The Heart of Gaming acquired many of the original Funland arcades from the Trocadero, so is probably the closest thing to being able to relive the glory days. It is currently closed as they are moving to new better and bigger premises just opposite Shepherds Bush tube station in the near future (Feb 2017 I believe).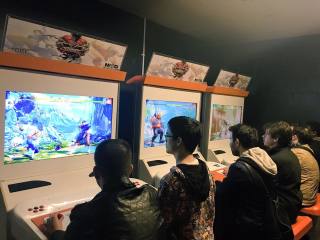 They are currently crowdfunding to help with the move, which includes; acquiring next gen consoles, setting up a PC gaming area, bringing in screens, projectors and the renovation of the building and the arcades themselves, and so if you want to contribute to this worthy cause or just find out more, please see the links below.
The Heart of Gaming sounds like a top place and a worthy successor to the Trocadero (Funland) arcades of old. Hopefully, they can ensure the London arcade scene is preserved for future generations to come.
I eagerly look forward to checking it out once it reopens in the upcoming months"
What Memories Of London Trocadero Do You Have?
Which Arcades Are Worth Visiting Nowadays?
Let Me Know In The Comments Box Below.....
"Stay Frosty Freezer Followers"