Whether I'm chomping down power-pills in

Pac-Man

, finding a chicken dinner under a bin in

Streets of Rage

or pausing midway through a fight with a wizard in

Skyrim

to scarf down 50 wheels of cheese, I'm having a good time.
Bite the Bullet
takes this to the extreme, a run n' gun shooter with a bad case of pica: everything and everyone must be eaten.
Set in the near future", the Earth's environment and economy have collapsed, resulting in mass famine. The solution? "Implantable bionodes" that allow humans to eat any substance they choose. The only downside is that doing that for long enough begins a ghoulification process - causing the rich to abandon the planet for space.
You play as gun-toting commando Chewie/Chewella and must clean up the ruined planet by blasting and chomping everything in your path. It's a bonkers concept and this weird world is presented in painfully gross pixel-art detail.
Bite the Bullet
's Earth is a landscape of vomit and rotting meat, populated by sickly but violent mutants and vegetables that look like they've escaped from a Hieronymus Bosch painting. Stomach rumbling yet? Doesn't matter - to win you've got to shovel this nightmare down your throat to upgrade your character, top up your health and gain new perks.
Underneath the hood is a frankly dizzying amount of stats that govern what eating each item does. Your character can put on weight or become hyper-muscled -and each extreme has its benefits. Beyond this, you can specialise into various areas: max your damage by becoming exclusively carnivorous or gain access to plant-based armours and fart attacks by going vegan.
There's a lot to like about

Bite the Bullet

. The game's premise and core eating mechanic is totally loopy, the gross-out sprite art reminiscent of

Earthworm Jim

is consistently excellent and the chugging metal soundtrack puts you in the perfect mood to use big guns to blast bigger monsters.
But there's a problem:

Bite the Bullet

isn't fun.
I know 'fun' is an intangible that can't really be quantified, but throughout all my time with this game, I was tolerating it rather than enjoying it. One of the most basic issues is that moving and aiming never feels quite right. Taking the advice of other players I stuck to keyboard and mouse, but simply traversing the levels feels clunky and precise platforming is very fiddly and imprecise.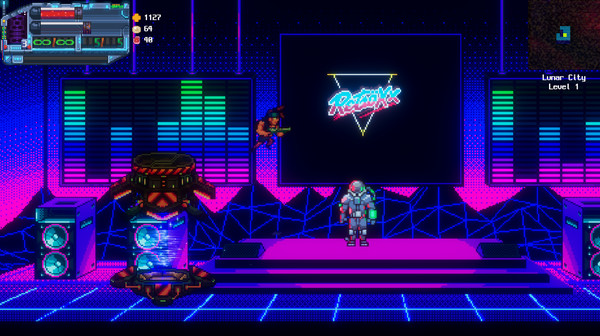 Then there's the level design, which feels procedurally generated even if it isn't. Each stage is a collection of confusingly laid out platforms and tunnels that give you little or no indication that you're headed in the right direction. There's no build or crescendo to the design and things get samey fast.
That's exacerbated by a limited variety of enemies and having to constantly pause to consume them. Chipping them down to low health and putting them in an 'edible' state is an interesting mechanic but in practice, it totally kills your momentum (even with perks that speed up the process).
What remains is a sense-deadening slog through endless identical enemies that never put up much of a fight. The only reason you're likely to die is that you get bored and start avoiding them altogether, which means you're not getting health top-ups and are likely to die through chip damage.
Then there's the fact that it commits one of the worst game-design sins: ludicrously incremental upgrades. My philosophy is that if I'm getting a power-up I want the gameplay to be noticeably different afterwards. But the

Bite the Bullet

's Byzantine skill tree is infested with hundreds of nodes that offer enticing prospects like "raises the amount of ammo restored by 1%" or "increase the amount of meter filled by eating enemies by 2%". Please. I can only take so much excitement.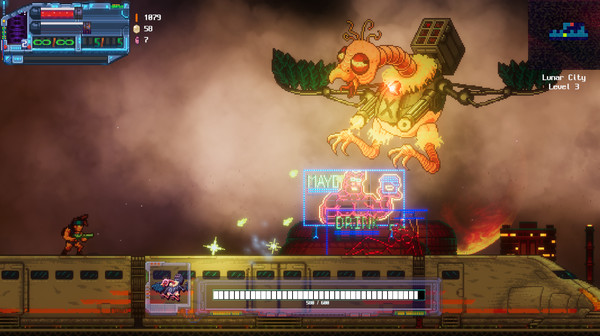 If

Bite the Bullet

were simply a run and gun shooter set in a weird world it'd be pretty amazing. But somewhere along the line, the design has become bloated - you could cut 90% of the RPG-lite cruft that's clogging up the game's gears and be left with a weird and wonderful fast-paced action game.