Drink More Glurp
Rating: MELTING
Billed as 'a wacky physics, sports(ish), hot seat, party game set on a distant world where aliens have copied Earth's summer games and got everything slightly wrong.
Having binge-watched broadcasts of Earth TV the aliens are convinced that advertising is the most important part of any sporting event.'
Drink More Glurp uses purposefully loose controls –the flailing of limbs, mostly - to create humorous events in which you must either traverse the landscape, collect items or use one of the sponsored items (such as the brilliant turbo glove) to boost your way around ad complete the many events.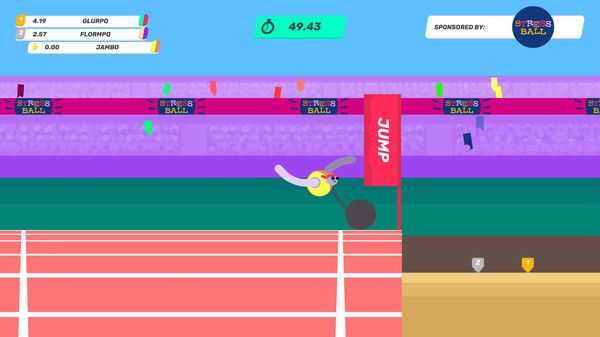 With its bubbly music and simple, colourful visual style (reminiscent of Pikuniku), Drink More Glurp excels more at its random thrashing when played with others.
The single-player experience does offer an online leader board and whilst it is surprisingly fun to see yourself inch your way (hopefully) closer to the top with each event, much like Heave-Ho, this really needs multiple players to get the most out of it.
The fact that it is so easy to pick up and play means that it's open to gamers of all ages and is definitely worth a purchase if you like physics-based comedy multiplayer mayhem with some folks who drink liquids with a percentage marked on the bottle that they glug from.
Haunted: Halloween '86
Rating: MELTING
There are two types of modern retro-styled games. The first type - such as Crosscode – which utilises the base characteristics of the console it intends to evoke (in the case of Crosscode, the SNES) whilst clearly doing things far beyond the abilities of the system it apes.
The second example is HAUNTED: Halloween '86 which is built within the limitations of the original console, in this case, the NES. Available to purchase as an actual NES cartridge, the musical and visual stylings of the game are ones that are very much from that era of 80's gaming.
The 8-bit nostalgia evoked here is almost palpable and the dynamic of flicking between the male and female characters to extend your health bar is a nice touch that eases off on the difficulty naturally present in this type of 2D platformer from the era.
This is a smooth ride and, aside from the occasional difficulty spike and confusion in background/foreground during some platforming segments, HALLOWEEN '86 plays very well, especially in portable mode.
You'll be surprised how quickly you naturally move from the thumbsticks to D-pad when those rad bleeps start pumping out of your Switch and chunky pixels fill your vision.