The Mega Drive is very much a console that I hold in high regard. As someone who has played, loved and collected for the system for decades, it's very clear to me, if Demons of Asteborg was a Mega Drive game released in the mid-'90s - it would be regarded as a classic, 'must have' title.
Released in 2021 on the Mega Drive, however…. it's still a classic, 'must have' title.
With a background story that encompasses a child being secretly squirrelled away, portals to realms of demons and massive battles, Demons of Asteborg has all the ingredients of a juicy boy-to-warrior epic revenge tale and delivers with gusto.
"I hope my hair doesn't catch fire!"
A 2D action/platform title, Demons of Asteborg casts you as Gareth, a lone warrior who must fight his way through scores of demonic entities and bosses – who can be absolute tinkers, let me tell you – if he wishes to be victorious.
Everything about the game bleeds quality. From the reversible cover – a retro MD cover with the design reminiscent of early titles such as Ghouls n' Ghosts or a more modern, anime-style artwork (which I settled on) – to the full-colour booklet which gives information about weapons, items, characters, enemies, locations and the like; it's instantly clear that Neofid isn't messing around here, this is very much a well-crafted labour of love.
Beginning in Gareth's home village (where you can pet the dog…and find a secret in the rafters…) the first stage lays out the blueprint for what is to come. Learning enemy patterns and behaviours to thwart them and, amidst the platforming action, you'll also come across some environmental-based puzzles which will need to be solved in order to progress. I was a big fan of the approach to level design, each one feels broken down into bite-size sections that always feel like they are evolving and throwing new things at you – but the vast majority can be solved by using your initial move set and whatever spell you are granted for that particular level. Through this nifty design, by the time you reach the boss, you'll have learned all the necessary tips and tricks in order to defeat them. That's not to say that it'll be easy, mind you! Some of them takes patience and some deft finger work on that inevitably, sweat-drenched and creaking Mega Drive controller.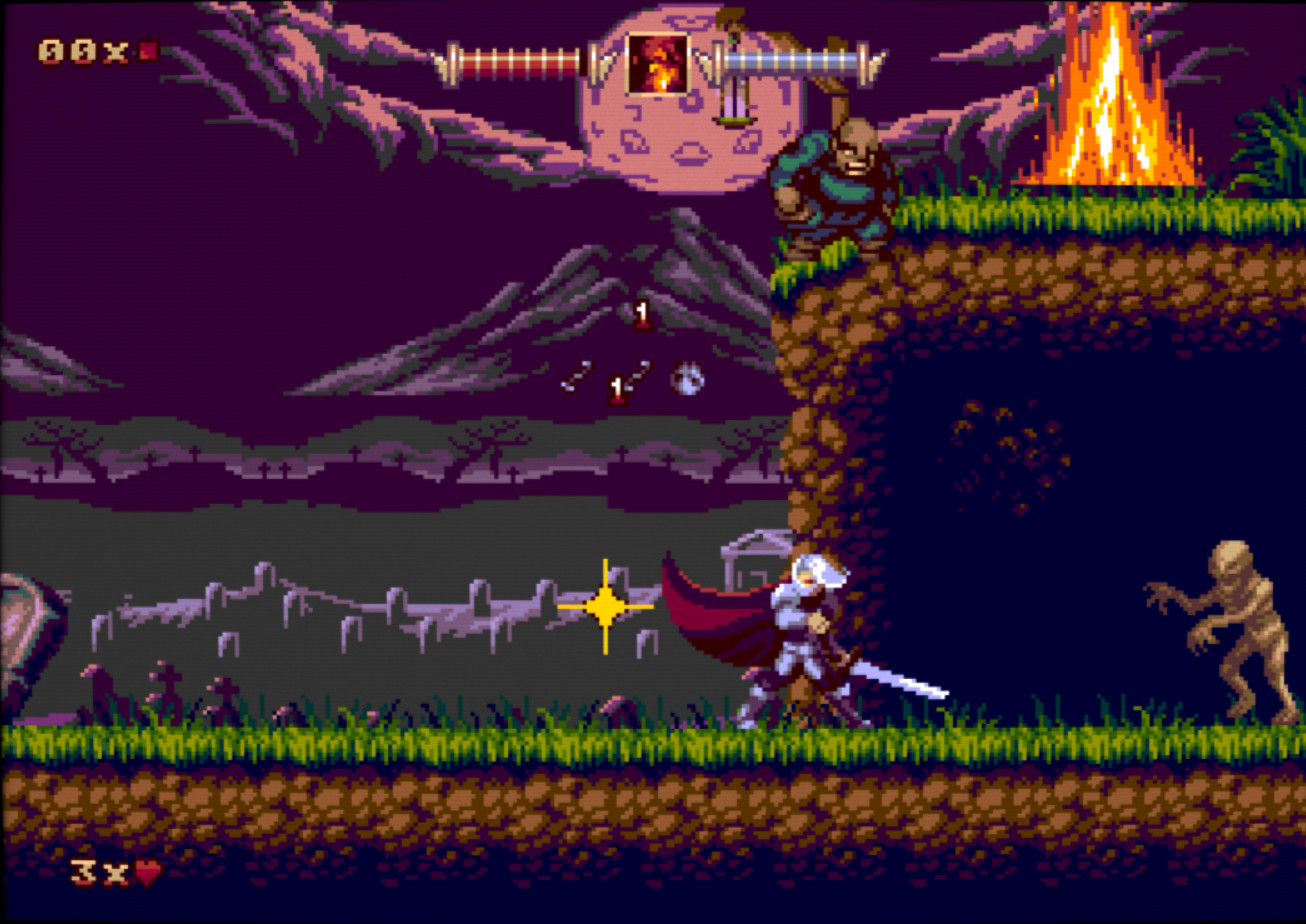 "Just another night out in Harlow"
From a presentation perspective, Demons of Asteborg is hard to fault and also wonderfully 'Mega Drivey', There's liberal use of parallax scrolling, evocative work on the background and location art and I'm pretty certain that I didn't come came across any slowdown at all– quite the feat considering the generous sprite sizes and pace of the game. Whilst the music was great, it did feel a little bit short-looped on occasion which does add to a sense of repetition when you are locked in the zone on your tenth attempt at an especially saucy boss.
As you can probably tell, I'm a big fan of Demons of Asteborg. The way in which the levels are designed with modern sensibilities in mind combined with an in-cart save functionality means that even if you lose all your lives against the stage boss and have to run through the level again, the breeziness and focus on the player learning the best path to the boss through the levels rarely feels like a chore because the stages are so fun and brisk to get through, once you get the knack down.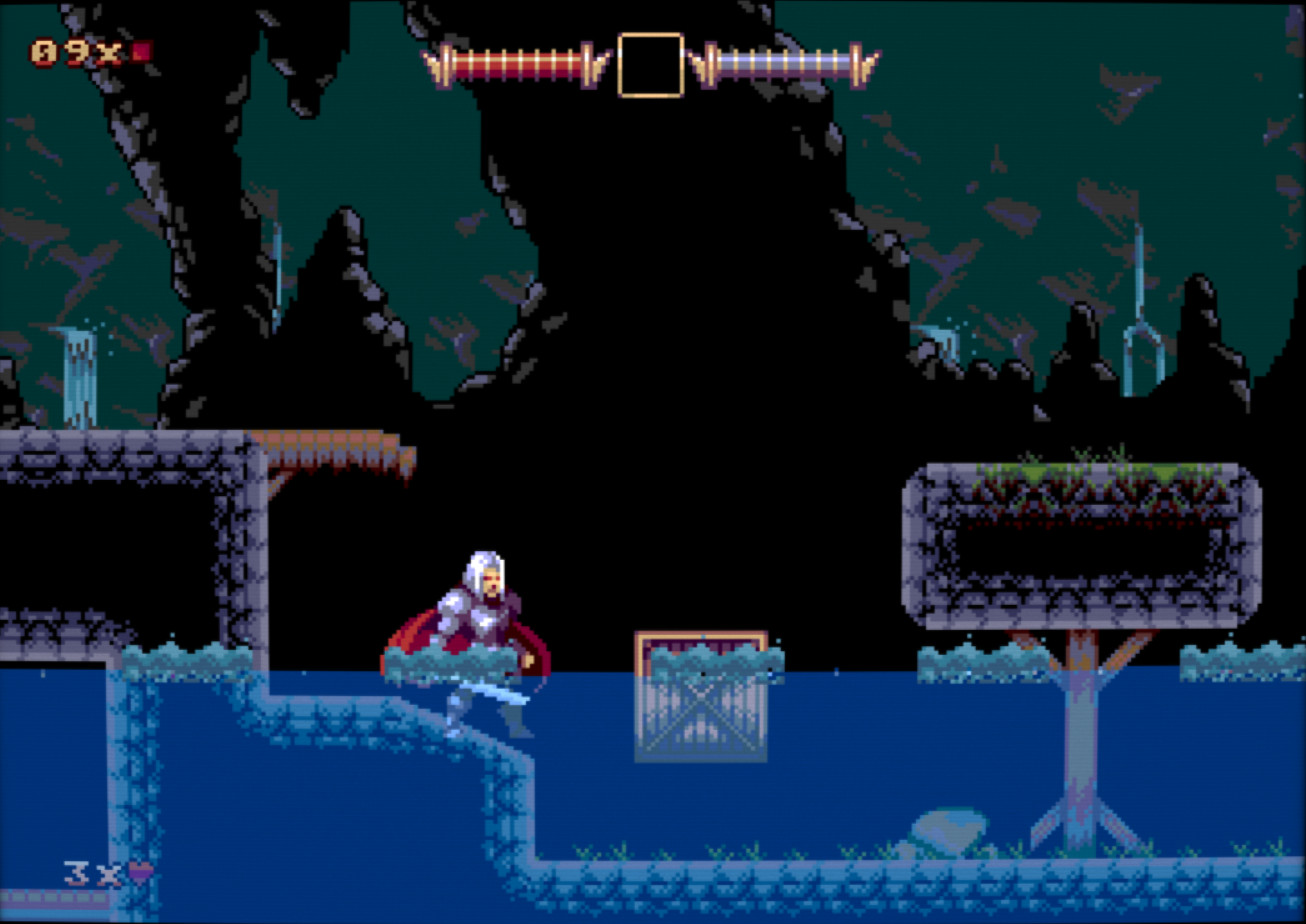 "Will anyone notice if I have a pee in here?"
I love the focus on having one special spell for each stage that you have to master in order to get through the levels, it keeps the game fresh as it goes along and the level of challenge is tough but fair. The focus on the narrative and the characters you meet add an almost RPG-ish flair to the proceedings and give depth to the game, it's a simple story, tightly told which interlaces with the gameplay perfectly. There's no hammering through tedious dialogue boxes here, everything is succinct and delivered in a way that doesn't impact the overall pace.
Here at GF, we are big fans of games released on older systems, especially in cases such as Demons of Asteborg (and also the recently released Intrepid Izzy on Dreamcast) it's glorious when developers clearly have the talent and skills to embrace and get the absolute maximum out of the system in question.
There's a lot of great stuff going on in the world of classic consoles at the moment and for me, Demons of Asteborg is very much at the top. As an aside, I've also found the developers behind the game - Neofid - are extremely supportive and have great customer service with updates all over social media, keeping the fan base engaged.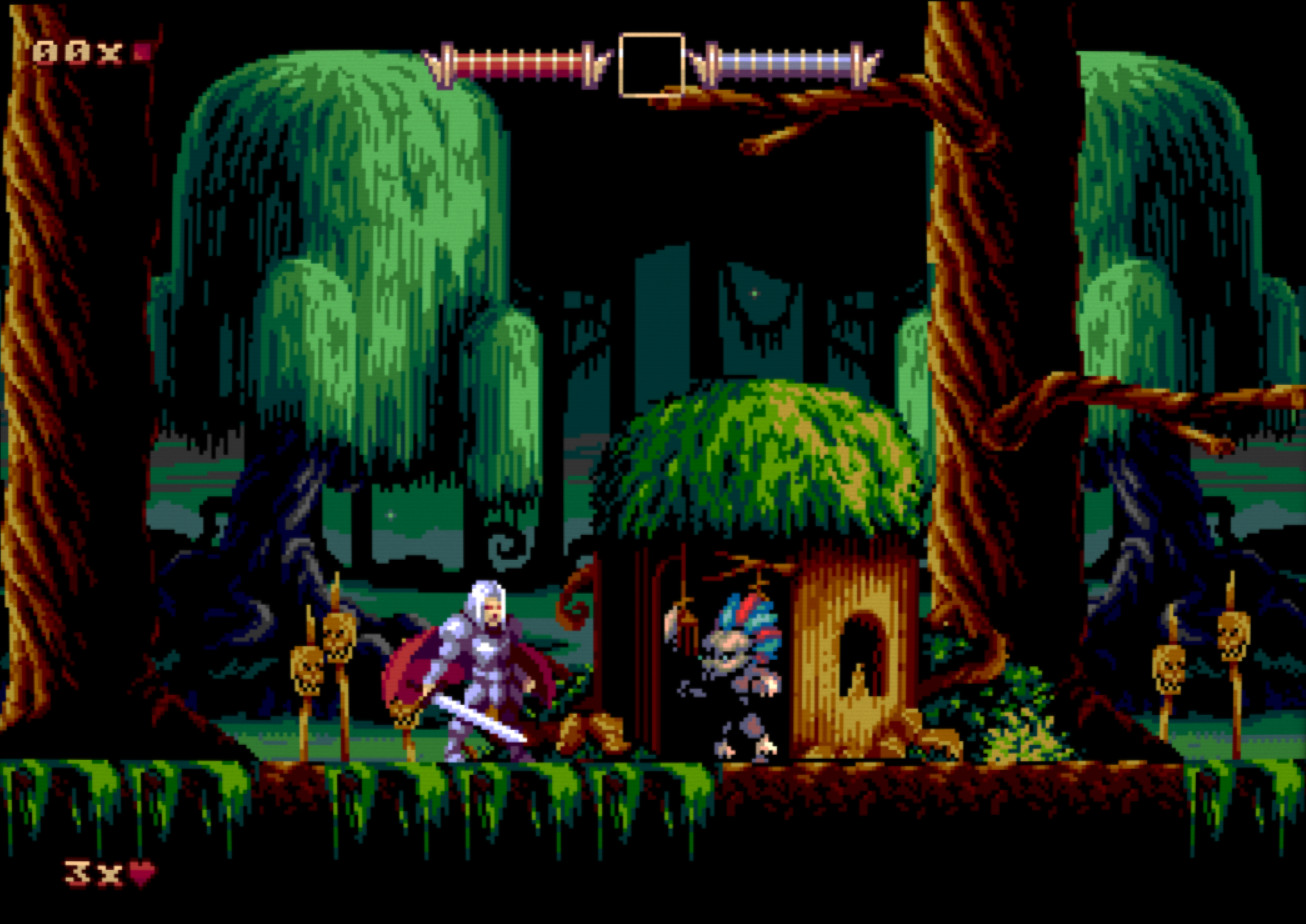 "Excuse me mate, have you got any PS5's in stock?"
If you don't own a Mega Drive but this article has tickled your fancy, fear not! Demons of Asteborg is also available on Steam and Switch with links available from the main site - https://www.demonsofasteborg.com
Right, I'm off to take down Zadimus!