As I've got older I've begun to realise how precious time is to us all.
When we're younger it seems we have all the time in the world to do whatever we want and we take it for granted.
This is especially true for playing video games.
When I had all the time I wanted to play video games I would play the same games over and over again (yes Pro Evolution Soccer 4, you know you are guilty!)
Now that my gaming palette is far more diverse I seem to have less time than ever to play video games due to other 'life things' getting in the way such as maintaining a house, a business and looking after 2 kids.
As I look back on my younger video gaming days there are definitely things I miss from those care free gaming days and that's what I want to talk about in this series of articles.
Even though I miss those days of playing video games till the sun comes up it has made me value and enjoy my gaming time even more and has taught me to cherish my hobby even more. It has even inspired to create this website to use my spare time in an even more efficient way!
Let's take a look at things I miss from my care free gaming days and let's begin with one of my all time favourite past times…
Championship Manager Hot Seat Sessions
Before the days of online gaming Champ Manager was a solitary sport unless you're best mate was able to head over to your house after school and then it became a hot seat session!
These Hot Seat sessions were defined by the rules that were set at the start of the game.
Normally the first thing decided was which country and league were you going to begin in?
Then it was onto which teams were you going to pick?
These decisions were vital. Me and friend Chris would often go for Lower League sides and attempt to guide them onto glory in league and cup!
One of my favourite save games was one where I was Millwall and Chris was Bristol Rovers. This was a brilliant save game which had us both researching potential transfer targets, honing our tactics and building a rapport with our fans as we battled it out on a weekly basis. It was one of those save games that felt perfect. But alas, one night I came over to Chris' house after we'd had a few beers and I managed to wipe out our entire save game by copying over the save with one of Chris' solo games!!! The next save game was never going to be the same. Chris is yet to forgive me for my blunder 20 years later!!
Once you had decided on teams and set the load in motion (which could take some time while the database loaded!) then it was time to set the local rules to which you would abide by whilst playing together.
First Rule was usually the time limit on turns once you were in the Hot Seat. From memory we would allow each other 30 minutes on our first turn of a season to set up tactics and start the wheels in motion for transfers both in and out. Once that first turn was taken it was a standard maximum of ten minutes to get your turn done with.
Whilst a manager was taking his turn you were not allowed to look at the screen in case you decided to pounce on a transfer negotiation and ruin the other managers hard work! (Taribo West on a Free Transfer? Yes Please!!)
Once these ground rules were set then the hot seat session would play out with Sky Sports News on in the background of Chris' room whilst accompanied with a varied soundtrack of oasis, Eels, Pete Tong Mixes and Daft Punk!
Chris would often wear a special hat when his game was being played. It was a ridiculous looking giant Guinness Hat from a Paddy's Day promotion. Chris would then take the role of the crowd whilst, dancing, singing and clapping around the room. This was especially annoying when we played each other.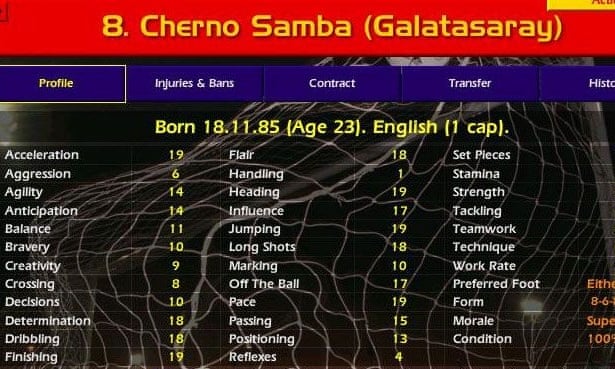 Playing each other in the league or the cup was something else though, it was a match of epic proportions that losing was just not an option. One such versus game I remember very well was when I decided to play my wonder kid Cherno Samba who was only 14 years old! This was met with derision from Chris as he dismantled my Millwall team with ease and danced around the room singing unbeatable! Cherno was never the same after that baptism of fire.
As everyone knows the best part of Champ Manager is signing players. This process could make or break your season and in hot seat mode each signing was met with a cry of "You Jammy Bastard how did you manage to get him??!!" or "That's the biggest waste of money ever!!"
Transfer policy was crucial to success and generally the only way you knew about hidden gems was by chatting to mates in the playground and sharing stories of amazing transfer buys!
My favourite transfers were the free transfers like Taribo West who would agree to sign with lower league sides which was ideal for our hot seat games as we were generally Championship or League 1 sides.
If you were lucky enough to own a printer you could even print out your star players ratings and stats to prove to everyone at school who you'd discovered. I remember an early version of Champ Manager having a player called Aleksei Poddubski who on my version was all 20 ratings!! I wish I still had that printout to prove it to you all because I can't find any mention of the player anywhere on the internet!!
These are just some of the brilliant times I remember with Champ Manager Hot Seat sessions but i'm sure there's more stories out there.
What were YOUR Favourite Memories Of Champ Manager Hot Seat Sessions?
Let Me Know In The Comments Below
Rich