Despite this being a fairly obscure Japanese game, I had stumbled across Mushihimesama before. I read an article about the "bullet hell" sub-genre of shoot-em-ups and found a couple of YouTube videos of examples. One was called Perfect Cherry Blossom (Japan, there) and the other was this one, Mushihimesama, or Bug Princess.
If you've never stumbled across bullet hell games, they're pretty much what they sound like, which is vertical shooters, a la 1943, with an utterly ridiculous amount of enemy fire coming your way. I'm talking literal thousands of bullets taking up a good 95% of the screen. So my attitude to these games has always been "how can that possibly be fun?". Then I had a review code for this game thrust upon me and my journey into 2D twitch shooting began.
There is a story behind this, something to do with the heroine trying to save her family from a plague, apparently by sitting on the back of a flying beetle and killing every oversized insect in your way, but it's paper-thin and frankly unnecessary to enjoy the game.
So, this being a vertical shooter, giant insect enemies come at you thick and fast. Your job, as the eponymous Bug Princess, is to attempt to take them out before they can spew huge amounts of bullets your way - thankfully the bullets are bright pink, so easy to spot, if not avoid.
You can choose from three starting weapons which you upgrade using tokens from a certain enemy type. Collect enough without dying and you obtain laser-firing drones that make the job a little easier. There are five stages of this madness, and you get unlimited credits to get to the end. However, at its core, this is a score attack game, and using a credit puts you back to zero. This means the ultimate goal is really to clear it in one credit, and good luck with that; I think my best attempt was 13 credits. most of which went on the frankly ludicrous end boss. I was quite proud afterwards, thinking I was starting to get the hang of it until I was fiddling around in the options menu and realised I'd put it down to the easiest difficulty.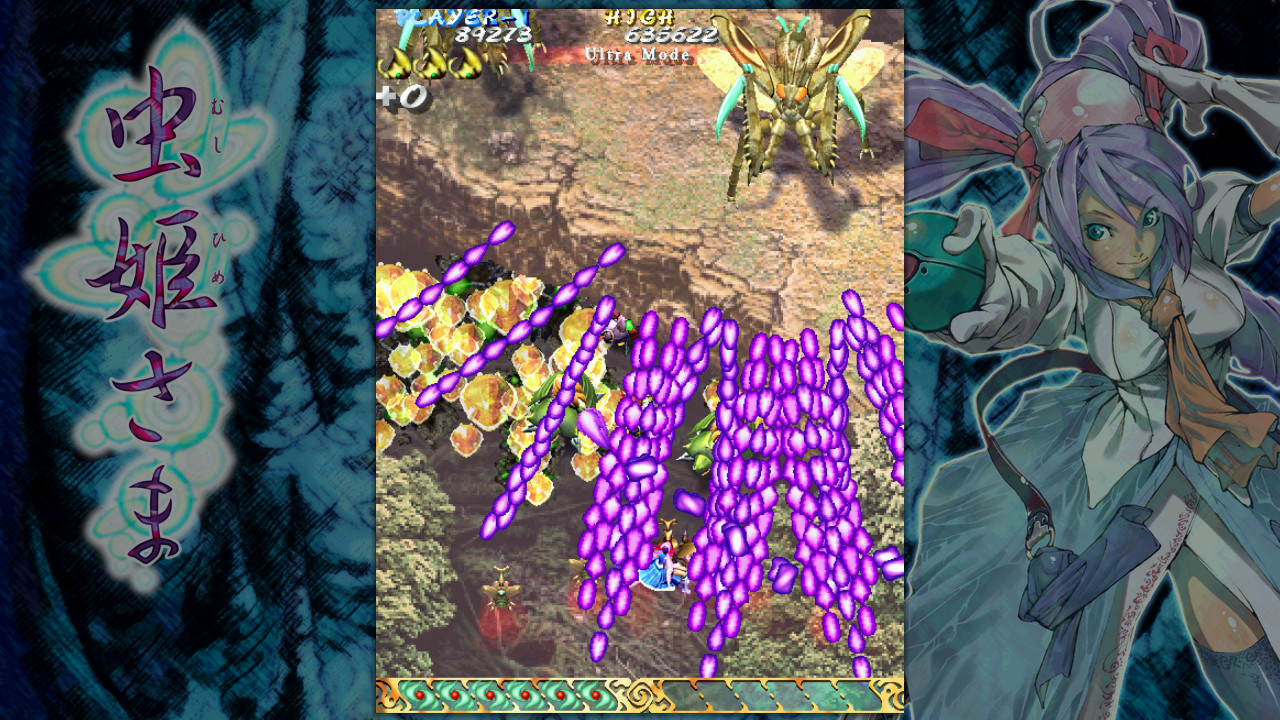 This game first came out in 2004, but has been updated and ported around since then, with arcade versions as well as home consoles. This means you get a few different game modes to test yourself against. Original mode is what it sounds like, featuring three difficulty levels of increasing torture. If you select 'Ultra' difficulty the game asks you, before you even start, "Are you ready to battle sheer despair?". No, you are not. Unless you've spent a lot of time on the Novice mode.
You also get v1.5, ported from the 2011 arcade version, and Arrange mode, sort of a remixed version. The kicker on Arrange is your ship starts out fully powered up, and as long as you hold down the fire button you can concentrate on dodging. In fact, once you get into the zone (and it does happen), the game turns into a dodge 'em up - you know you can take out the enemies by constantly firing, and continual movement means you get to stay alive while doing it.
You are aided by a frankly tiny hitbox on your ship, and you also have a limited number of bombs, the main selling point of which is that they destroy all bullets on the screen, which can get you out of tight spots effectively. A nice feature of Arrange mode is that if you get hit and you still have a bomb left, it deploys the bomb so you can fight on.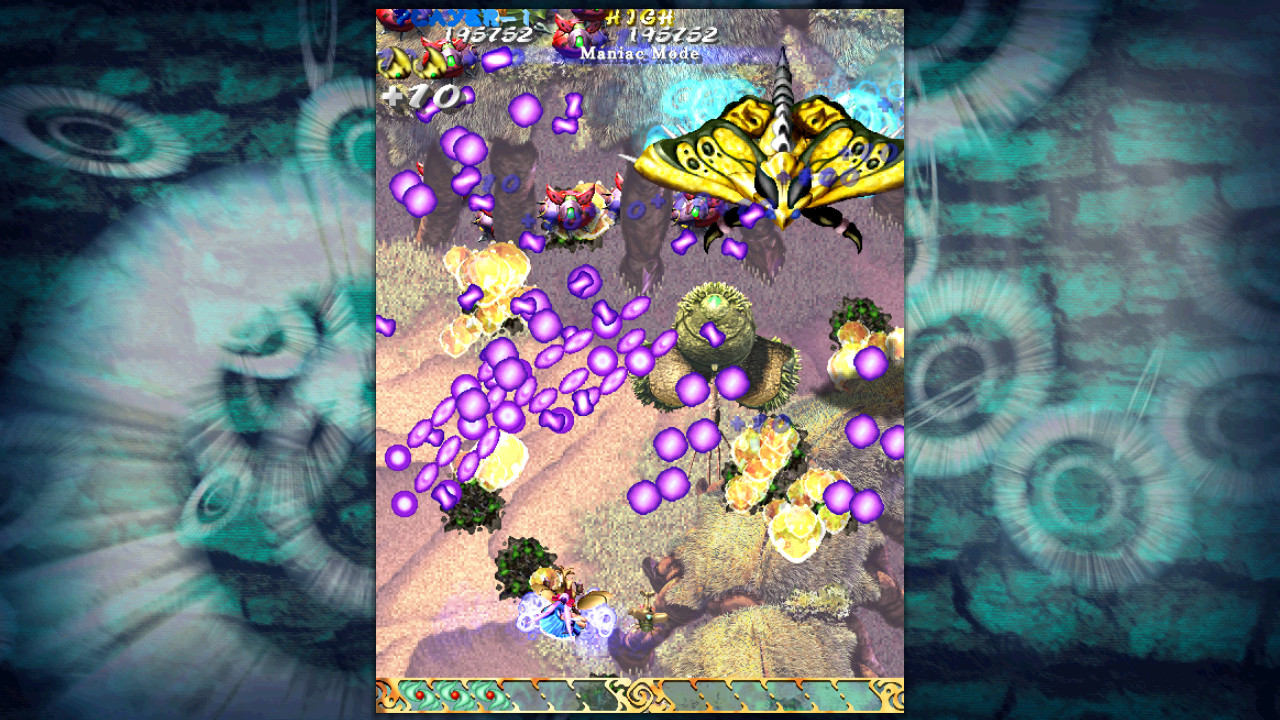 The graphics are great, made up of detailed pre-rendered sprites that are a hallmark of Cave, the developer. The music is suitably frantic too, and each game mode has a different set of tracks, although whether you live long enough to appreciate them is up for debate.
I mentioned earlier about getting in the zone, and when the going gets tough you can find yourself slipping into Zen-like calm while twitch-dodging reams of projectiles. Until it all goes pear-shaped, of course. And I think I found solace in the fact that this game isn't meant to be fair, it's supposed to stitch you up, so rather than putting my Switch through the living room window, I would give a wry smile and have another go. Still on the lowest difficulty though, because double glazing is expensive.
NOTE: At the time of writing, this game has been pulled from the EU store, but will be back at some point in the future.