As we all know, there are many,

many

rogue-like games available. The one that I am covering today is Hero Survival on PS5 (it's also available on all other major platforms).
Hero Survival is a classic survival game featuring enemies such as ghosts, werewolves, and jack-o-lanterns, etc. The objective is to progress through the 10 levels of each stage and then defeat the boss at the end. However, each stage takes roughly 20 minutes or more and surviving for that long is not an easy feat!
Styled with areas that have everything from bright, multi-coloured forests through to spooky graveyards, there is plenty of visual variety as you progress through the stages. Although they have designed 4 different-looking areas, all have the same problem in that they are pretty small.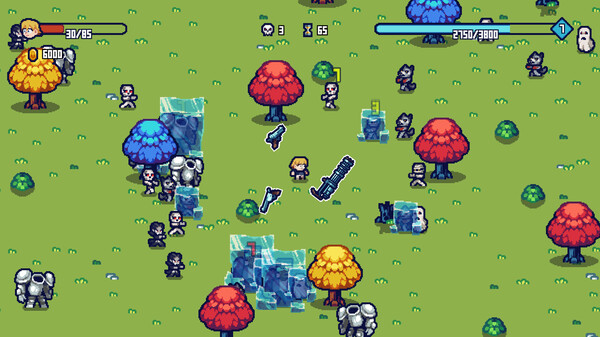 There were sometimes situations whereby I had poor weapons and abilities, and was cornered, which meant that I was killed before I could even get close to the later levels. Yes, I know they want you to panic or squeak through with a little amount of health in order to build tension, but I wish they could have added more obstacles or buildings forcing you to move about differently, adding tactics to the scenario. Sometimes it felt as if I was literally just going around in circles.
Although Hero Survival lacks a tutorial, it is easy enough to figure out how to play. All you need is the left analogue stick to dodge and weave around. The real excitement, however, comes from the combination of weapons and items that you receive at the end of each level. Both have a variety ranging from 'common' to 'epic'. Weapons can be placed in four slots, but these can be swapped out if you find a better version of a weapon/ability with more damage or a higher critical hit chance. Ultimately, it all comes down to your personal preference.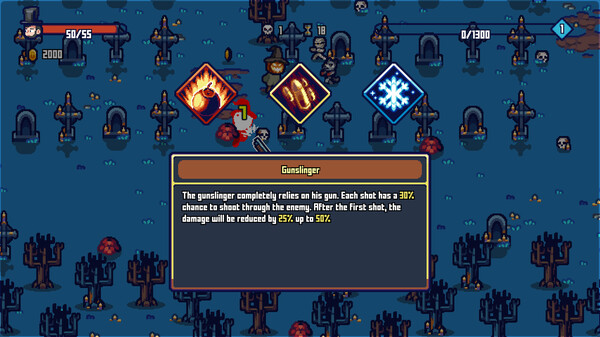 Items, on the other hand, come with both positive and negative effects. For instance, you may get higher critical damage - but slower movement. Moreover, you gain abilities after killing
monsters and earning experience points.
Abilities range from a chance for bomb drops after a kill to having more greed, which translates to more coins. There are a few other abilities as well, but I found that bombs were my favourite and most useful. Levelling them up to increase their damage and range helped me out a lot in tricky situations.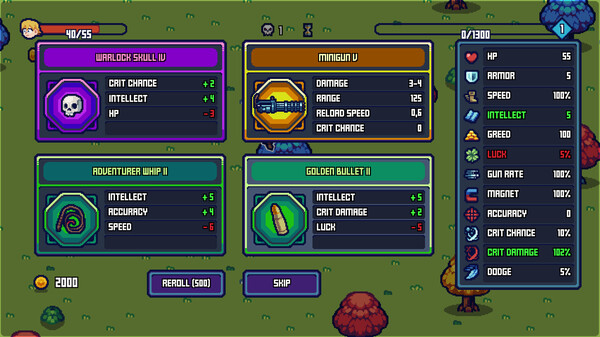 After the first time getting killed/game over, you head straight back to the main menu which
only has three options available - start the game, settings, or credits. Heading back into the game you get the chance to see other weapons that you could start your run with, or perhaps a change of character.
In order for you to use them, you have to unlock them with the coins gained from grinding and taking on the stages over and over. On top of this, you can only unlock both weapons and characters in a set order which takes a lot of time instead of going straight to the one that tickle your fancy.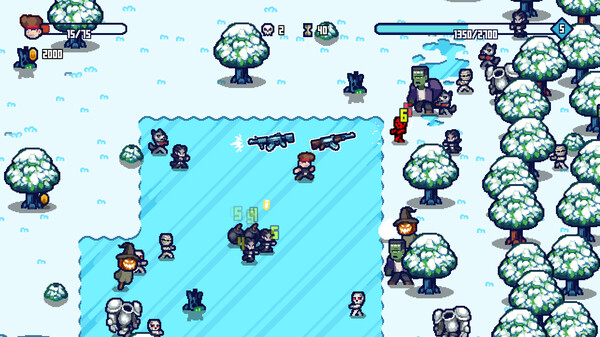 SUMMARY
Hero Survival is a fun rogue-like game with great music and weapon/item combinations.
Although the levels can be repetitive and coin grinding takes time, it's still an exciting
experience. Definitely worth checking out if you're looking for a quick and enjoyable gaming experience.