Platform reviewed: Nintendo Switch
Playing like a four-player version of Super Smash TV with RPG elements, Iron Crypticle went down a storm at a recent multiplayer night at mine, the clever use of random generation and unlockable items to make each dungeon delve more varied as well as ramping up the replay value immensely.
Fun in single player but elevated above and beyond in the mighty form of local co-op, Iron Crypticle is a keeper.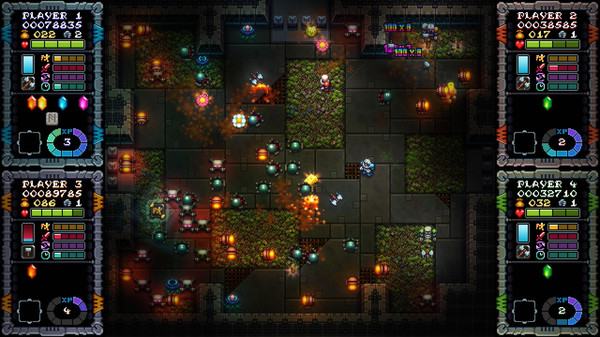 Set in a medieval-themed fantasy world, Iron Crypticle pits you and up to three other knights against an increasingly challenging selection of levels. Starting off with simply a trusty throwing axe and a small, shared amount of lives (you will
glare
at the person who dies the most, believe me), you move through each single-screen level, hammering away at the myriad enemies that assault you. The game reminded me of a far more advanced and wide-ranging version of Crimsonland on the PC (a game I also had a lot of fun with several years ago) although Iron Crypticle is clearly the superior beast, from its smooth action and detailed pixels through to the awesomely retro background music, we had a great time playing it and I can easily imagine having sessions that last several hours as opposed to the quick blasts that the genre usually offers.
Enemies warp into the level in waves and you can either use twin-stick shooter controls or even a joycons with suitably adjusted controls to churn your way through the hordes of undead, bats, maggots, ghosts and more, each floor of the dungeon has an over map with special rooms located and unlocked as you make your way through, from shops to upgrade your character and weapons to tough graveyard levels where an unstoppable spectre is always on the prowl and mini-boss levels that give rich rewards at a high risk, each map ends with a screen-filling boss battle that will really put your thumbs to the test, they are
not
shy..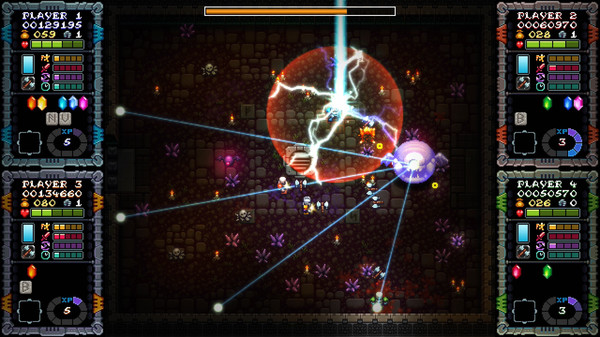 The game feels almost Amiga-like in how everything you pick up gives you points, bonuses, spells, runes or that most precious commodity…health. It's always satisfying to race your cohorts to that awesome weapon pick-up or discuss tactics in the brief moments of respite between levels and work out who gets that lone heart, is it you? Green Knight, the one with only one hit point left; squirting blood in his tracks or me….because… I'm greedy? It's me isn't it, I was here first!
The procedural generation of level layouts and enemy placement as well as the fact that the deeper you go, the more weapons and items you unlock gives you that "Come on, we can do this, one more time" factor that this genre really needs in order to give it longevity.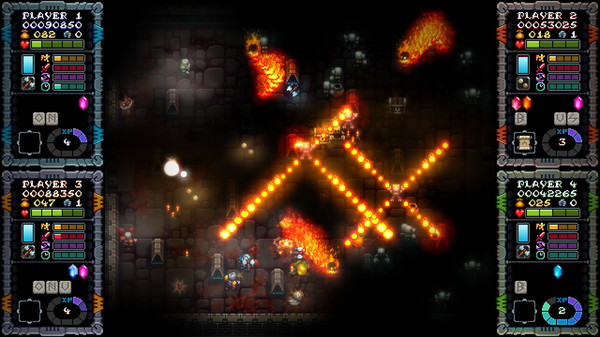 Summary
I've played a lot of four-player co-op games recently and I feel confident in saying that iron Crypticle really stands out. It takes the addictive, arcade-style rush of retro games like Gauntlet and Super Smash TV whilst mixing in the best parts of modern gaming sensibilities, combining to a whole that will be bringing me back again and again.
Right, where did I put that Holy Fist?
ICE COOL (Great Game Recommended)
MELTING (Recommended with reservations, one to consider if you are a fan of the genre)
MELTED (Not A Recommended Purchase)