Game Title: Hellmut: The Badass From Hell
Developer: Volcanicc
Platform Reviewed: Nintendo Switch
A top-down twin-stick procedurally-generated dungeon romp, Helmut: TBFH is a really fun game that gets a lot right…except for the lack of a local campaign option.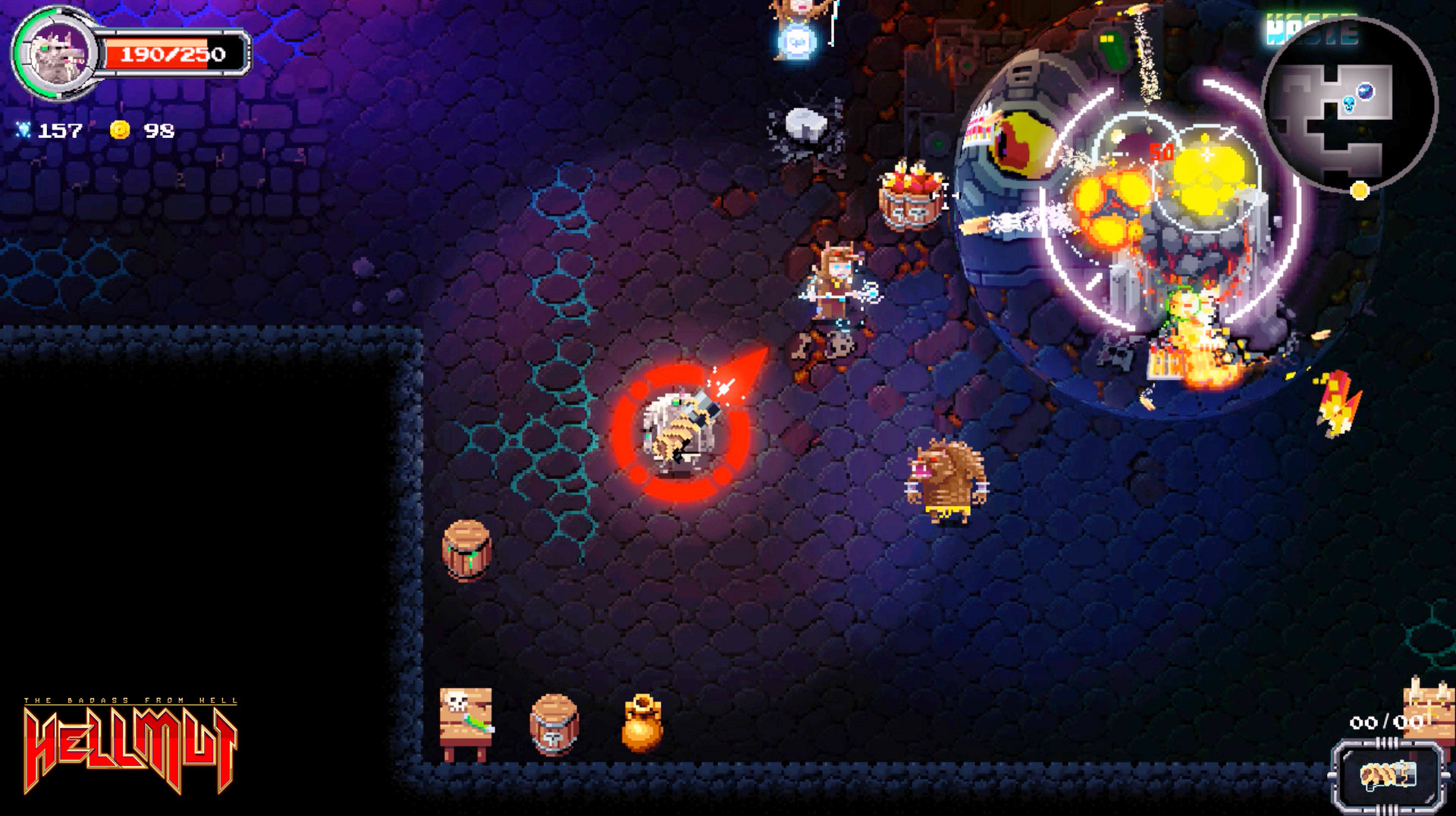 The introduction sequence for Helmut pretty much sets the tone, ridiculous, gory and funny. Good. As someone who has had their physical body torn from them and now exists as pretty much a floating skull, the thing that differentiates Helmut from similar games in the genre is your ability to transform (and unlock further transformations) into more capable forms.
Initially you are given the choice of a king rat who fires rubber-coated rats out of a machine gun that bounce off walls or a huge stitched-together; hammer-wielding Frankenstein that can charge at groups of enemies (I think we all know which one I went with), as you make your way through the game you unlock extra transformations which I won't give away here but all play differently and have handy special abilities (either offensive or defensive) that can make or break certain sections of the game, especially the screen-filling boss battles.
The chunky pixel art aesthetic works well with the occasionally Gauntlet-esque levels of enemies pegging it towards you, I was also pleasantly surprised by the variation of the enemies and their methods of attack. Initially, it's a case of walking into a room, causing enemies to spawn and backing off, taking them out as you slowly move out of the action, fast-forward a few stages and this approach no longer works with dashing and teleporting enemies requiring you to take different and far more dangerous methods.
The music is also quite nifty, allowing you to switch between modern and retro version s of the soundtrack and a surprisingly workable mesh of the two, for variety. In-between levels there is a shop you can visit to spend your bloodstained coinage and crystals or perhaps play a version of Space Invaders (which was oddly mute on the Switch) which could possibly earn you more coins to spend on firepower, health packs and the like.
Summary
Hellmut is a really fun little superficial twin-stick title that may not offer anything new to the genre but comes with a sense of humour about itself and a tightness of design that can easily kill a few hours but, aside from an 'endless waves' mode, there's no co-op, and in these titles, co-op goes a long way.
Is this a game I would return to for a quick blast of demon-murdering fun? Sure, for a while.
If it was a full co-op campaign? HELL COULD NOT HOLD ME BACK.
Bottom line is that Helmut: The Badass From Hell is a solid dungeon crawler and the fact that it's Volcanicc's first title is impressive. I'm looking forward to seeing what comes next from the studio.
ICE COOL (Great Game Recommended)
MELTING (Recommended with reservations, one to consider if you are a fan of the genre)
MELTED (Not A Recommended Purchase)