Platform Reviewed: Playstation 4
I remember my time with VBlank's previous title, Retro City Rampage very vividly. I was hips deep in how fast-paced the story was, the fun factor of the driving and shooting mechanics as well as enjoying the pop culture references (before they became extremely tiresome and over-used in games in general).
As retro City Rampage was a title with a very solid 8-bit aesthetic, I remember thinking at the time that a sequel set in a 16-bit world would be cool…and it is.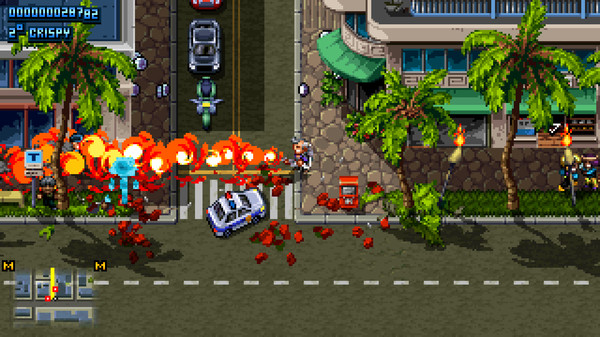 The story alternates between the main protagonist (the CEO of Feeble Multinational), his gangsta-wannabe son and finally, his off-island mercenary consultant.
The CEO, now in his 60's is completely out-of-touch, still lost in a nostalgic reverie of VHS stores, claiming streaming to 'be a fad' and spends the game in a desperate bid to once again elevate his company to the level that it once was. Naturally, he will do this by any means necessary be it shakedowns of local businesses, seedy practices or wiping out cartels, it's no water off his sweaty polyester business-suit clad back.
The Hawaiian setting really works here, bright, chunky visuals and smooth scrolling combine to make a game that plays wonderfully, I had no issues with any glitches at all during my time with the game, it's also
extremely
pacey, which is again a very good thing. Missions can take only a couple of minutes (there are over 120 of them in the main story alone) and are interspersed with hilarious, well-written cut-scenes replete with visual gags that break up the frantic city-smashing drives to varying locations (The map is surprisingly large). Your vehicle can hammer through almost anything in its path except the buildings themselves…which you can buy up and upgrade anyway, which brings us onto a new major addition to the game, the business aspect.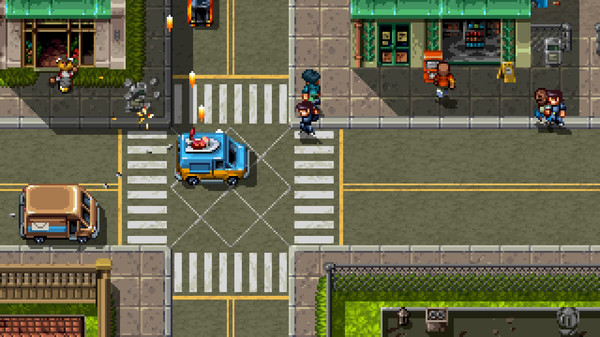 As you make your way through Shakedown Hawaii, you'll unlock companies, housing projects and land for purchase all of which can be rented, upgraded and generally improved upon in order to boost your income and raise that all-important salary to buy key items such as new knees and improved eyes (natch).
Another aspect of the game that's glorious to behold is the music, driving chiptunes and synth are the order of the day and the ten selectable radio stations in the car cover all aspects of your squelchy 80's needs, I'm already hankering for a vinyl release so that I can thrust my wallet deep into the hands of Matthew Creamer.
Shakedown Hawaii is an astonishingly fun game; it moves on from the film, TV and game references from Retro City Rampage (probably for the best) and instead takes aim at corporate righteousness, greed and laughable transparency in the best way possible. Some of the things that the CEO comes out with seem preposterous…but they are true and it almost feels like a lesson in the ridiculousness of consumerism as well as a contender for game of the year.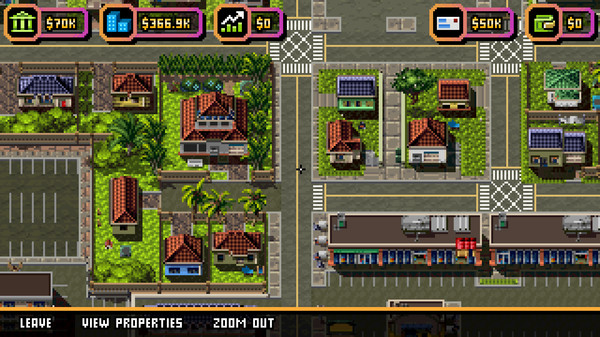 There's nothing quite like Shakedown Hawaii available at the moment, from run 'n ' gun fun through mowing across the city, leaving carnage in your path to the sheer swiftness of gameplay, it just delivers in every way, it's the first game in a long while to keep me playing until my eye are burning with tiredness late into the night just because it's such a blast to spend time with, I was also surprised in how oddly addictive it was in the land-purchasing aspect, again taking something that could have been tedious and giving it an arcade-sensibility makeover with an injection of humour, if this doesn't end up on my GOTY list, I've been bribed.
Right, I'm tired…better drink some 'Gamer Cola'.
P.S - I NEVER got bored of Ron's pained responses to some of the CEO's comments, the best animation in gaming is his slight wince and turn, as far as I'm concerned.
ICE COOL (Great Game Recommended)
MELTING (Recommended with reservations, one to consider if you are a fan of the genre)
MELTED (Not A Recommended Purchase)