Everspace is a roguelike single-player game where you fly a spaceship and there is a story, told through flashbacks.
In Everspace, you have to die to succeed. Sounds weird but it's true! When you die you can use your credits to buy upgrades and even new ships to go back and get farther than the last time.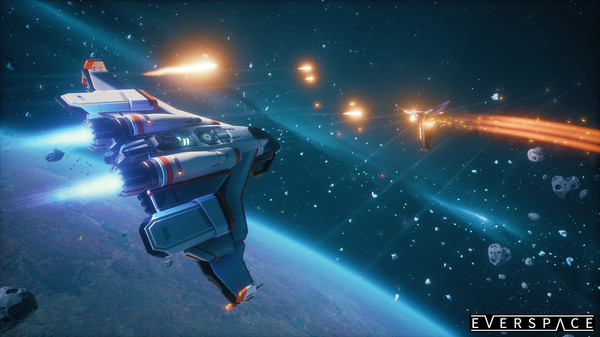 The longer you survive, the more story you discover. Do not give up if you keep dying as the upgrades available in the game makes playing better experiences as you destroy other ships and see yourself get better at the game.
Everspace has some great flying mechanics. Even though I am a console player who has recently changed to be a PC gamer.
I found it very easy to control the spaceship even though I did die a lot. Everspace mechanics reminds me of Dead Cells with the progressing system as you need to die to spend your credits to upgrade your ship and then go back and try again.
Even though it does have similarities to games like Dead Cells, it is also a completely different game with 3D space dogfighting and an open space environment.
I like the fact that it actually had a story behind it and it gives you the incentive to continue and progress to understand what is going on and why you are on this journey. I usually struggle with games where you have to die to win to get through the game but with story added, I wanted to continue to know what is going on.
It's hard to find something bad about Everspace, the storyline was a great addition to the game but it was a little flat with not much detail to it. I still enjoyed the story even though there could have been more and most likely will be in the second game. Even though the story was good, the core gameplay did make the game better and a very enjoyable game.
It was a hard choice to make; taking a chance fighting a stronger ship or running away because if you fight you have more of a chance of getting more credits but a bigger chance of failing and dying.
If you run you get nothing to upgrade with but you survive for a bit longer. I like being able to make that choice. Although some enemies do attack you on sight so it's a hard choice between fight or flight and you have to make your decision quickly!
If you are interested in this game, have a look at the trailer for Everspace 2 which has more than doubled their Kickstarter goal. So the next game seems like it's going to be massive! Maybe even adding more story to it which would make it a perfect game series to get into.
Summary
Everspace is an amazing game even though it does lack in some areas, the core gameplay and experience is great and definitely worth a playthrough and with how much support the second game is getting.
It just proves how good the game is with how many people really want there to be a second Everspace game. Myself included, I am looking forward to the much anticipated second game!
Developer Name - Rock Fish Games
❄️ RATING: ICE COOL ❄️
Review By MumblinGamer