Back in 1989 SEGA released the awesome SEGA Megadrive video game entitled Revenge Of Shinobi and it rocked!
Do you remember playing this awesome retro game from back in the day?
Do you remember that SEGA were treading on some mega shaky ground at the time with the use of not just one character outside of the SEGA world but 4 characters that were definitely not theirs to use!?
Yes, legendary SEGA game Revenge Of Shinobi had:
Godzilla
and a Batman character in the game!
All of them were unlicensed and all very much blatantly those characters.
It's absolutely remarkable to think of that happening in today's world but somehow it was allowed to happen in 1989.
After a revision of the characters due to the obvious complaints received the characters were altered.
Rambo went from blatant Rambo to a muscly bald guy.
Spiderman actually ended up looking more like Spiderman than the original incarnation!
Batman was changed from Batman to a more demon like form of a beast who still had the wings of a Batman but maybe not the features.
Godzilla was actually improved in my opinion as he went from a Godzilla lookalike to a skeletal dinosaur like creature which was far more imposing.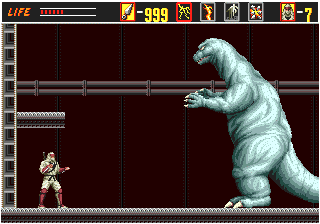 To top the copyright ladened infringements all off, the title screen also had to be changed due to SEGA using an image of Sonny Chiba.
Eventually the game released on Virtual console and at this point the Spiderman character was changed completely to a pink suited spider guy type who resembled Spidey only in his actions but not his appearance.
I found this whole SEGA saga really interesting and I hope you did too.
Do You Remember This Awesome Game And Its Varied Ensemble Of Characters?
Which Version(s) Have You Played?
"STAY FROSTY!"