Over the last couple of weeks we've been treated to many cool things RetroGaming Related.


We've decided to pack them all up into a nice little package just for you and call it the Retrogaming Games Freezer Bulletin.


So take a little look at the things and people that have piqued our interest over the course of January.
8-BIT GALLERY.COM
There's nothing on the site yet, but we love their website banner!
Keep an eye on this one to see what gets posted......
"Reaching the Far Lands: one man's journey to the end of 'Minecraft' "
"On March 28, 2011, Kurt J. Mac opened a new game of Minecraft and started to walk — and he hasn't stopped. Nearly three years later, he's traveled seven hundred virtual kilometers in hopes of reaching the end of the Minecraft world, a mysterious place called the Far Lands."
Retro Asylum Podcast
We're probably a bit late to the party but we've got right into The Retro Asylum Podcast.
We recommend you get on over to Retro Asylum NOW and have a listen to the gaming goodness that they preach!
Digitiser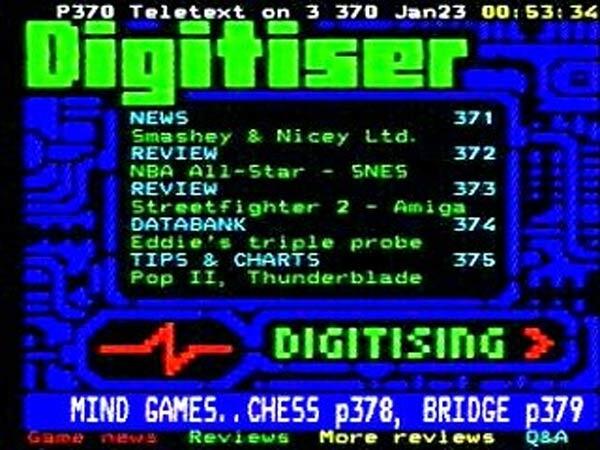 We saw a pic on Twitter from @RetroCollect that took us all the way back to the pre internet days when Teletext & Ceefax ruled the airwaves.
The gamers Teletext Page of choice back in those days was Digitiser .
Digitiser was the IGN of it's day, the most up to date Video Games News and Reviews site of the day.
We'd forgotten all about this until Retro Collect posted this cool pic!


Digital Games Museum
Take a trip to Digital Game Museum to see how these cool dudes and dudettes SAVE GAMES!
Bluetooth ZX Spectrum
There's only one day left to back the brilliant elite ZX Spectrum KickStarter, head over NOW to be a part of Video Games History (again)
Guide To The Best Android Emulators
As our regular readers will know we've spent a lot of time looking into emulators recently and we found this article to be a great source of video game emulation knowledge....
Take A Look And Have A Read HERE
That's just a small glimpse of the stuff that we havn't managed to cover over the past few weeks and rest assured we have got plenty more to cover as the world of Retro Gaming is just full of great stories right now!