Would you like to own a miniature replica of one of the most iconic arcade video games of all time?
This Kickstarter Campaign Has Broke The Internet!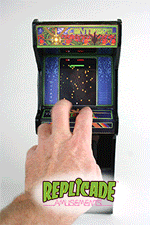 New Wave Toys is kicking off a new line of miniaturized classic arcade machines called...

"Here's what those Crazy Cats @ New Wave Toys had to say about this awesome Kickstarter Project..."
"At New Wave Toys, we believe that bringing home the arcade experience means more than simply playing the original arcade ROM. The video arcade experience is a blend of many things, and to truly bring that experience into your home requires great attention to detail."
"Replicade Amusements combine a blend of traditional design and materials with modern technology to recreate your favorite arcade classics in one-sixth scale."
The miniature arcade machines are fully playable and officially licensed by the original manufacturers.

Each cabinet features:
Wooden cabinet in perfect profile

Accurately reproduced control panel

Backlit LED marquee with authentic art

Authentic metal coin door

Vividly reproduced side panel art, bezel, and control panel graphics
"For the Replicade X Centipede machine, the trackball and action buttons have been resized to coordinate with the sixth scale machine while retaining a fully-functional and satisfying gameplay experience."
Kickstarter Live Now!
Hurry and snatch up one of the early rewards! Super Early Birds can support us with just $90 to earn a Replicade X Centipede machine + Lighted Keychain!
An extra cool gift for your support!