We've had PLAY Blackpool and now it's almost time for PLAY Margate........
Are YOU Ready For The Video Gaming Time Of YOUR LIFE Player ONE?
I visited PLAY Blackpool earlier this year and had the time of my life!
Read all about it HERE where I tell you how I 'stormed Bowser's real life castle'
Now the PLAY Bus takes its retrogaming brand of fun to Margate for another long weekend of high jinks, consoles, arcades and cosplay, what more could you need?
Maybe a bit of Chas N Dave to get you in the mood?
Anyway, now you are in the mood for a bit of Margate mayhem let me tell you all about what the crazy cats at Replay have in store for YOU!
Perfect PAC Will Attack!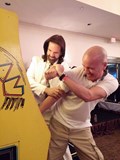 Imagine the perfect game of Pac Man unfolding before your very eyes........YOU could witness history in the making as Pac Man world champion Jon Stoodley will be attempting a perfect game of Pac-Man live at PLAY Margate.
This feat has only ever been recorded and achieved by one other person, the infamous Billy Mitchell!
Even if you are not attending why not donate to this awesome cause,
'
Bright Red is a charity established to improve the lives and treatment of people in the North who are dealing with Blood Cancer. Through care, research and education we are striving to beat illnesses such as leukaemia, lymphoma and myeloma'
PLAY Margate will feature a whole host of video gaming-related treats for the retro gaming troops!
Let's start off with some retro gaming and classic arcade cabinets.
Then let's have a flip and a flap on the coolest pinball tables in the UK.
Let's move onto a lovely array of indie games and finish off with some of the most modern PC and console games!
Yes PLAY Margate is a true celebration of gaming both old and new.
If you love competitive play then get involved in the cool tournaments.
Then there's 'The Ring' a 16 screen gaming carousel will host both casual and competitive head-to-head LAN gaming on some of the best 'FPS' and driving games of recent times.
Hold onto your Minish caps because there's the cosplay contests for all the exhibitionists out there!
If you fancy buying some cool gaming related merchandise you will have your pick of the traders in the traders hall
Roll up for the Video Game Carnival which will bring the quirkier side of gaming to PLAY Margate with Lazer Pong, first person Scalextric and giant Gameboys to enjoy.
The Jewel In The Crown
Finally, the true star of PLAY is the cornerstone of the show.......
Replay Ages and the Celebrations Zone.............
These zones will host over 100 computers and consoles showcasing some of the very best games and genres from the past 40 years including Mario, Sonic the Hedgehog, Tomb Raider, Street Fighter, Star Wars and Lego. (I got lost in there for about half a day last time!)
Once you are done with the coolest day out in the UK why not get footloose with TWO awesome after parties run by GamerDisco that that will mix gaming, music and live entertainment!
What's The Deets?
PLAY Margate runs from Friday August 21st –August 23rd at The Winter Gardens, Margate
Friday 21st August - 10am - 6pm & 7pm - 11pm
Saturday 22nd August 10am - 6pm & 7pm - 11pm
Sunday 23rd August 10am - 6pm
Tickets are priced from an awesome £7.50!
| | |
| --- | --- |
| | |
| | |
| | |
| Evening 7pm - 11pm (Over 18 yrs only) | |
| | |
| | |
| | |
| | |
Booking fee applies 50p per ticket in person/phone & £1.50 per ticket online
For more information you can go to the following links.
This is one event that will bring a smile to your face once you enter the event and the smile will last until the next event!
Don't miss out, take the family down to Margate and get Chas N Dave on the stereo on the way down!