Ninjas are cool - FACT
Every little boy growing up in the 80's wanted to be a Ninja - FACT
Ninja Video Games are awesome! - FACT
I've always had a fascination with Ninja video games and I started yesterday to think about all the awesome Ninja video games I've played over the years and there's loads!
Let's take a little walk down memory lane and take a look at some of my favourite Ninja games on various consoles and computers down the years, there's been some absolute crackers!
1. Last Ninja 2 - Commodore 64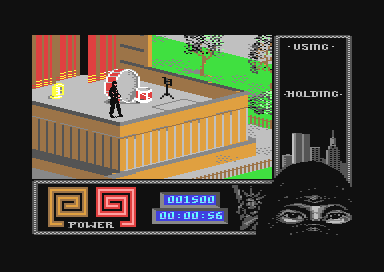 This game still blows my socks off. An open world Ninja game on the C64......WOW!!
Surely the coolest Ninja ever? I played this so many times at my mates house but I never completed it (always got stuck at the point I needed to jump onto a boat)
2. Ninja Commando - Atari 800 XE/XL
I bought this game for my Atari on the strength of the box and the title. A Ninja Commando is surely the ultimate Ninja? The game was a left to right run n gun and it had death stars, what more do you need?
3. Bionic Ninja - Commodore 64
At the time I always thought this game was awesome.
Now I look back at it, it hasn't aged too well.
It still makes my list as I have rose tinted memories of playing this shocker of a game!
4. Shinobi - Sega Master System
When I saw this on my mates SMS I knew I had to have it. I was so impressed with the graphics and the gameplay. I adored the death star bonus level. I could have just played that part of the game all day long.
5. Ninja Gaiden - NES
The in game opening sequence is so iconic and it really sets the revenge storyline up perfectly. As an 8 year old it felt like I was watching a Ninja movie. The game itself is a tight side scroller that I played whenever I could at my mate Briggsy's house.
That's what friends are for right?
6. Dragon Ninja (Bad Dudes) - Arcade
In the U.S this was called Bad Dudes vs Dragon Ninja over here in the U.K it was known as Dragon Ninja. The local video shop had it and me and my mate Paul couldn't get enough of this cool arcade game. The WACCA WACCA man who multiplies himself is my personal favourite on screen enemy.
What a kick ass arcade game it was (and still is!)
7. Alex Kidd In Shinobi World - Sega Master System
An Alex Kidd / Shinobi crossover. Brilliant! I had so much fun playing this game. It was actually a bit too easy though. I loved spinning round lamp posts to launch Alex across Shinobi World, brilliant fun!
8. Teenage Mutant Ninja Turtles - Arcade
4 Player arcade machine, me as Leonardo, 3 mates and a stack of 20p coins......life doesn't get any better than that does it? This game is awesome. I was obsessed with Turtles at the age of 9 and this game fueled that love even more.
There was a 4 player machine at our local water park that we would play endlessly while everyone else was in the wave pool or the lazy river...good times for a video games nerd.
9. Tenchu - PS1


The use of stealth as a bad ass assassin was so much fun and something completely new for me when I played it in 1998.
Grappling hooks, dropping down through holes in roofs and surprising the bad guys! What's not to like?!
Not strictly a Ninja game as such but I suppose Zool was a Ninja from the Nth dimension!
Really Zool was just a solid platformer aiming to topple Sonic off of his perch (do hedgehogs sit on perches?) I had fun playing this on Amiga as i've always loved my platform games BUT it never really felt like I was a Ninja, only in name maybe?
A Ninja and his dog! The sequel to Revenge Of Shinobi was for me a right hum dinger of a game. I really enjoyed wielding that sword and battling my way through 1997 New York with more shurikens to throw at my opponents.
Gorgeous game, great gameplay and awesome level design made this game favourite of mine. Never got to play it as much as I would have liked but a sure fire legendary furturistic high tech Ninja style arcade game none the less.
This game is ingrained into my childhood. The 2 player game was a joy to play. Who can forget getting to the end level and then doing the 10 roundhouse kicks to restore unlimited continues!
If you think about it though it's not really a Ninja game BUT it has martial arts in it and I have always loved this version. So i my list it goes! (so THERE!)
I'm happy with my 13 Ninja squad.
The strongest Ninja in my lineup has to be Last Ninja.
Weakest is probably Alex Kidd as he's only a young lad! (although he's knocking on 30 years old nowadays!)
Which Ninja Game Would Make Your Ninja Squad?